(Okay, since Barter Faire begins with "Barter," our A-to-Z of the faire is really a B-to-Z, but you get the idea)
Bartering – what is it?
Bartering is the Trading of things of value between people. You can also trade your time and skills, craft work, garden and wild produce, and other useful items.
Camping
Coming from out of the area? This is a festival that you don't have to leave! Yes, you can pitch a tent and stay for the weekend. Please remember when making camp, to work with others around you to create healthy and nurturing neighborhoods. Also, please note the Faire officially ends on Sunday night, but campers can spend Sunday night as long as they leave by 11am Monday morning, and leave the site clean and as close to the original state it was before arrival.

Dome School

The Hope Mountain Barter Faire directly benefits the Dome School, our local alternative non-profit cooperative school. As a private school, the Dome School doesn't receive much funding from the state, so benefits like the Barter Faire are crucial for our school children. Your support of the faire helps support the programs and staff of the school. The first Barter Faire was produced by the Dome School family in October 2003. Read more on our faire history.
Emergencies and First Aid
A First Aid facility is provided on site. A dedicated team of experienced staff will be able to help with some basic first aid supplies. The Front Gate also has access to first aid items. The Hope Mountain Barter Faire staff are linked via radio and cell phone services. Please notify Front Gate, Security, or First Aid in case of an emergency. Please report any incident of violence or medical emergency!
Food Vendors
Barter Faire attendees can expect a variety of very fine foods. If you're a food vendor and are interested in being at the faire, click here for more information
Giant Puppets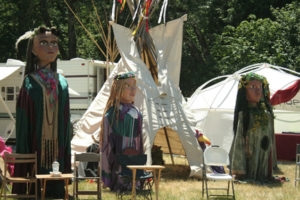 What's a music festival with just music? Yes, thanks to the fine folk at Coyote Rising, giant puppets have long been an integral part of the Hope Mountain Barter Faire experience. Come see for yourself!
Hope Mountain
In the early days, discussions trying to settle on a name for the faire focused on this major landmark in our community. We see Hope Mountain as maternally looming over and embracing Takilma. Discussions also noted how the Hope echoes the hope we have in our community, in our children, in our dreams, and our efforts.
Kid Village
Open Sunup to Sundown, Kid Village is a safe space for children to play. The contents can vary year to year, but there are usually swings, costumes for dress up, the occasional face painter, and parades. Children must be accompanied by an adult.
Lane Costner
Designer of the original Barter Faire poster as well as 6 of the first 8, Lane was a Dome School parent and he set the tone for all poster/t-shirts to follow. In fact, the 2016 poster celebrates Lane's work, by utilizing elements of some of his previous designs (including the Hope Mountain from year 1 and the "Hope Mountain" from year 2).

Music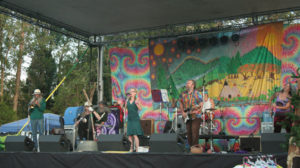 Alright, we'll be honest. We have food, artisan and craft vendors, giant puppets, a kid village, and more. But the main attraction for many is the music. All day Friday, Saturday, and Sunday, you can expect a wide mix of styles, including many local artists and quite a few from further afield. More info on this year's line-up as we get closer to the event.
Prices (2018)
– Day Pass: Adults $15, Teens (13-17) $10, Kids 12 and Under: FREE (but must be accompanied by an adult!)
– Camping: $10 per person per night, in addition to day pass (e.g. 2 nights camping is $20 extra)
– Vending: $10 per space per day, in addition to day pass (e.g. 2 people sharing a vendor space only need pay for 1 space).
– Blanket Space or Walking Vendor: $5 in addition to admission
CONFUSED? Here is an example: What is the cost for 2 adults vending together (same space) for Friday, Saturday, Sunday, and also camping Friday and Saturday nights? ANSWER: Day pass for each is $45 ($15 per day); camping fee is $20 each (2 nights X $10); Vending fee is $30 total (3 days X $10 for the one space). Grand total is $160; split amongst two people is $80 each.
Questions?
Anything you're still wondering about after reading this page? Shoot us a question on our Contact page.
Raffle
Stop by the Dome School booth, usually to the right of the stage, to buy tickets for our annual raffle. At least 20-30 items and always some great prizes to be had. And only $1 per ticket (or 6 for $5).
Safety & Security
Always be sure to stay well rested, hydrated and warm at night. Please also help to look out for others around you. If there is a problem that you cannot mediate, contact a Peacekeeper (our Security detail) or Front Gate Personnel.
T-Shirts

Each year we have a new official t-shirt design! As well as other assorted bags, beanies, hoodies, and more. Stop by the table to the right of the stage to take home this year's design. You can see the tees through the years here. Or check out our page of Posters, which often use the same design.
Volunteering
There are many volunteer opportunities available by visiting the Volunteer Center and signing up with the Volunteer Coordinator. You can also call 541-592-4458 and leave a message. If you sign up for one 4-hour shift, you can get a day pass. Work two 4-hour shifts, you can get a free weekend pass!
Where is it?
The 16th Hope Mountain Barter Faire will again take place at Lake Selmac County Park. The official address is 500 Reeves Creek Rd, Selma, OR 97538, though you'll want to head to a different part of the park (so maps/GPS for the above address will get you "almost there"). Click for directions.
X
As in IXNAY! There will be no fires in the trade circle or camping areas. Absolutely no Fireworks or BBQ's! No alcohol, weapons, pets, or illegal drugs. Also, the boundaries of the Faire property are clearly marked so please do not stray from the Faire Area. And please, no pets–service animals must have papers.
YES!
Barter Faire is presented by Youth Empowerment & Support!, a 501(c)3 nonprofit.
Zero Waste Policy
We like to abide by and encourage the "Pack it in, Pack it out!" policy. We provide dishwashing facilities to encourage you to bring your own plates and cutlery. This cuts down on the amount of paper waste produced by the event.